FOCUSING ON PATIENT COMFORT & SAFETY
REVOLUTIONIZING
TREATMENT

OPTIONS
Revolutionary Design:
simplicity, safety and versatility
The T-RING is the world's first One-Size-Fits-All tourniquet for digits. Designed by a physician, the T-RING provides immediate hemostasis while applying a fraction of the pressure applied by previously used tourniquets. And, being highly conspicuous, it is nearly impossible to forget on a digit. The T-RING's unique design gives providers a digit tourniquet that is faster, safer & easier to use.
Simplicity
One Size Fits All
Simple Slide on Application
No need to cut, roll, wrap or clamp gloves or Penrose drains
No need to select from multiple sized commercial bands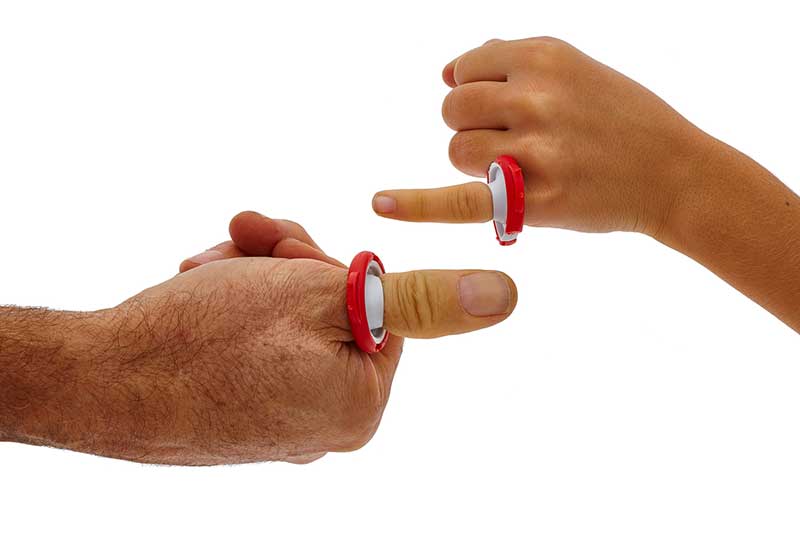 Tourniquet Safety:
Preventing Pressure Injuries
High pressures cause neurovascular & soft tissue injuries
Standard of Care: Always use the lowest pressure necessary to achieve hemostasis, and Never Exceed 300 mm Hg
Penrose drains, surgical gloves and commercial bands all exceed the pressure known to cause injury (Naim, 2008)
Digits under pressure: Traditional Tourniquets (Naim, 2008)
Rolled Surgical Glove (561 mm Hg)
Correctly Sized Silicon Band (636 mm Hg)
Penrose Drain (834 mm Hg)
T-RING: A Safe Pressure Every Time
Adjusts to any digit to apply pressure of 150-165 mm Hg
Impossible to over-tighten
T-RING is proven to always apply the lowest pressure of any method on all digit sizes (Lahham, 2010)
T-RING: Applies ideal pressure on all digit sizes
Tourniquet Safety:
Preventing the Forgotten Tourniqet
Digit necrosis from a forgotten tourniquet is an uncommon but disastrous complication that has occurred with low profile methods such as surgical gloves & silicon band tourniquets. The T-RING's high profile and bright color are designed to eliminate this risk.
Versatility
The T-RING's ability to instantly stop bleeding while minimizing risks finally gives providers a faster, safer and easier tourniquet option for digits. It's low pressure is ideal for patients with neurovascular disease, and the T-RING's ability to stretch over traumatic flaps & deformities allows its use when rolled on methods are ill advised. The "2 point discriminator" allows quick assessment of nerve injury; while the guaranteed bloodless field is ideal for Topical Laceration Closure™ of digit lacerations.
The T-RING is used by orthopeadic, plastic and hand surgeons; dermatologists, podiatrists, pediatricians, emergency and other primary care providers. It's benefits has made it the preferred tourniquet for acute injuries and elective procedures in over 1000 facilities in the U.S., and is used in over 30 countries worldwide.
TLC
™
Topical Laceration Closure
Topical Laceration Closure™ is revolutionizing the management of digit injuries. Compared to suturing, studies show that topical laceration closure:
is faster, cheaper and easier to use
reduces pain, anxiety & infection rates
has a lower complication rate
greatly reduces follow up visits
preferred by patients 9:1
NO NEEDLES, NO SUTURES, NO FOLLOW UP
"A bloodless field is critical in the evaluation and management of digit injuries. The T-RING provides the benefit of tourniquet use, without the risks associated with all other methods."
"As a hand surgeon, I frequently operate on the thumb or fingers for which control of bleeding is critical . The "T-RING" is ingenious; it provides effective exsanguination and instantly controls bleeding. I congratulate the staff at Precision Medical Devices for designing such a simple, safe, and reliable digital tourniquet."
I love your products! They have significantly decreased our need for procedural sedation when treating children with finger injuries, freeing up time and resources for our other patients.
I have also started using the T-STRIP with tissue adhesive for forehead & chin lacerations, and even use with bites (minus the adhesive over the actual bite) with great results. Thanks so much!
T. Kent Denmark MD FAAP FACEP
Chair, Pediatric Emergency Center
US Acute Care Solutions
As a nail specialist who does a lot of nail surgery, I rely on T-Rings for all of my procedures.  I love that the device is sterile, super easy to use and most importantly the safest way to achieve hemostasis during my procedures.  I highly recommend the T-Ring!
Dana Stern, MD